Financial planning is the process of meeting your life goals through the proper management of your finances.   Our process is designed to help you determine where you are today, where you want to be in the future, and the path toward connecting the two.  Life goals can include buying a home, saving for a child's education or planning for retirement.  Financial planning consists of six steps that help you take a "big picture" look at where you are financially.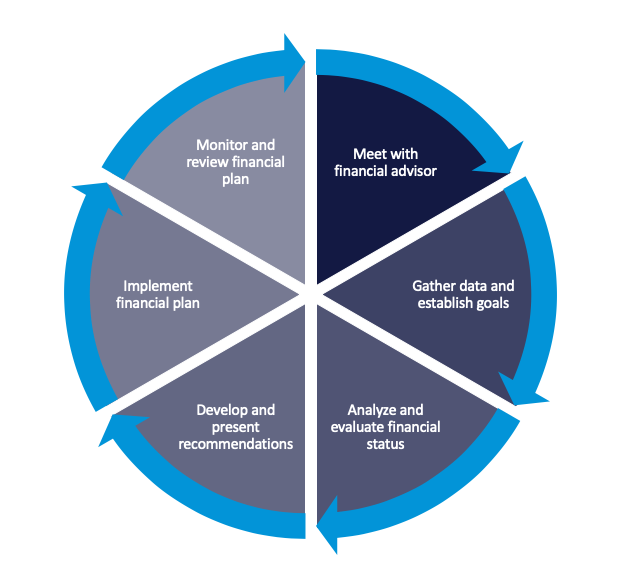 1. Developing a relationship with a financial advisor
Meet with a financial advisor to clearly under the services that will be provided to you and understand both parties' responsibilities.
2. Gathering necessary data, and establishing goals
Your financial advisor will gather all the necessary documents with information about your financial situation. You and your advisor will mutually define your personal and financial goals, understand your time frame for results and discuss how you feel about risk.
3. Analyzing and evaluating your financial status
Your financial advisor will analyze pertinent information to assess your current situation and determine what you must do to meet your goals. Depending on which services you have requested, this could include analyzing your assets, liabilities and cash flow, current insurance coverage, investments or tax strategies.
4. Developing and presenting financial planning recommendations and/or alternatives
Once your situation has been evaluated, your financial advisor will offer financial planning recommendations that address your goals, based on the information you provide. During this time, your advisor will review the recommendations with you to help you understand them so that you are able to make informed decisions. Your advisor will also listen to your concerns and revise the recommendations as appropriate.
5. Implementing the financial planning recommendations
You and your advisor will determine how the recommendations should be carried out. The advisor may implement the recommendations, or serve as your "coach," and coordinate the entire process with you and any other professionals, such as attorneys or accountants, as you deem necessary.
6. Monitoring the financial planning recommendations
You and your advisor will determine who will be responsible for monitoring your progress toward your goals. If your advisor is in charge of the process, he/she will report to you periodically to review your situation and adjust the recommendations as your life changes.