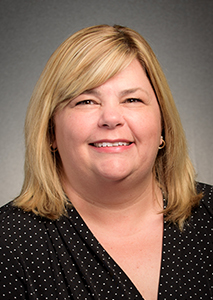 Kristen Kotlarz
Title:
Senior Operations Manager
Branch / Location: Cleveland, OH
Email: kkotlarz@mcdonald-partners.com
Phone: 216-912-1474
Kristen Kotlarz has an impressive three decades of experience in the financial services industry, with expertise in Managed Accounts, Mutual Fund marketing and operations.  She joined McDonald Partners in 2010 as Operations Manager, where she works with top-level management on policy implementation, risk management, sales compensation and project development implementation.
Before joining McDonald Partners, Kristen was Vice President and Manager of Managed Account Services for McDonald Investments, Inc., where she managed Mutual Fund operations and Managed Account Services.  Prior to this role, she worked in the Mutual Fund marketing department at McDonald & Company Securities.
Kristen holds a Bachelor of Arts in Social Sciences from Cleveland State University and is Series 99 licensed.
She resides in Strongsville with her husband, Mark, and their three children.