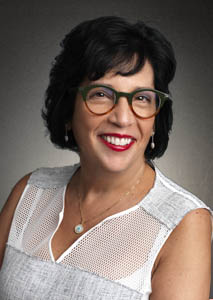 Rita Mansour, CPWA®
Title:
Certified Private Wealth Advisor™
Senior Managing Director
Mansour Wealth Management
Branch / Location: Toledo, OH
Email: rmansour@mcdonald-partners.com
Phone: 419-740-6110
Named by Barron's Investment News Magazine as one of the Top 100 Female Advisors in the United States, Rita advises clients in the U.S. and around the world.  Fluent in three languages, her correspondent relationships allow her access to global markets and a vast client list including professionals, business owners, retirees, foundations, endowments and institutions involved in various areas of commerce.  Rita's combination of worldwide clientele, keen sense of entrepreneurship, and attention to detail provide her clients with a unique perspective.
As Senior Managing Director, Rita and her team are focused on comprehensive wealth management and work closely with attorneys, CPAs and other experts to help assure each client receives complete professional counsel. Quoted often in local and financial media, she has been consistently recognized as a member of the Forbes/Shook Best in State Wealth Advisor Ranking, which ranks the top advisors in America. This award is given to advisors based on assets under management, ethical and moral standards and client satisfaction.
Rita has recently received many additional awards, including her alma mater Notre Dame Academy's Hall of Fame Award, Toledo's 20 under 40 Award, and Arab American of the Year. She also was named Outstanding Alumni of the Year of The University of Toledo College of Business and Innovation and received the prestigious YWCA Milestone Award for Business.
As a registered representative of FINRA, Rita holds Series 7, 9/10, 31, 63 and 65 licenses. She is also a licensed insurance agent in the areas of life and health. Further, Rita earned the Certified Private Wealth Advisor® (CPWA®) certification, administered by Investment Management Consultants Association® (IMCA®) and taught in conjunction with The University of Chicago Booth School of Business.
A Toledo native, Rita earned her Bachelor of Business Administration degree from The University of Toledo, where she developed and maintained a successful promotional products company. The company's success, largely due to Rita's marketing and business acumen, led the University of Toledo's College of Business to ultimately award her the Edwin R. Hodge Memorial Entrepreneurship Award as a student in college.
Rita passionately believes that giving back to her community is an important responsibility. She is actively involved in many civic and philanthropic organizations and serves as a Board Member of the Toledo Museum of Art, Lourdes University, and the Advisory Council of the Sisters of Notre Dame.  Rita is also involved with the Greater Toledo Community Foundation as a past board member and current member of the Grants and Distributions Committee.  She also currently serves as the Co-Chair of Momentum, a three-day regional celebration of the arts and cultural assets of the surrounding communities.  She is also an Honorary Board Member of the Arts Commission.