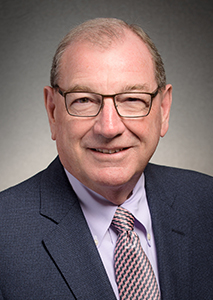 Thomas McDonald
Title:
Founder/Non-executive Chairman
Branch / Location: Cleveland, OH
Email: tmcdonald@mcdonald-partners.com
Phone: 216-912-0556
Thomas McDonald has a legendary career in the financial services industry – even before he founded McDonald Partners in April of 2005.
He served as President and CEO of Wayne Hummer Investments in Chicago from 2003-2005.  Here, Tom had total responsibility for the financial success of the company and was charged with growing the organization through the addition of high-quality financial advisors to service high net-worth clients of the parent company's banks.  At the same time, Tom developed products and services that allowed Wayne Hummer to change from a transaction-based firm to one focused on planning-based wealth management.  This focus allowed for the growth of assets under management and other fee-based business.
Prior to joining Wayne Hummer, Tom spent 12 years with McDonald Investments in Cleveland.  He began as Director of Sales Development and progressed in responsibility to ultimately become Director of the Private Client Group.  In that capacity, Tom established the Investor Services Group and developed products and services dedicated to the affluent investor.  Under Tom's leadership, the firm successfully transitioned from almost entirely transaction-based revenues to over 60 percent fee-based revenues.
In 1998, KeyBank bought McDonald Investments and Tom was responsible for integrating the Private Bank and Private Client Group.  He successfully integrated the organizations and was appointed to manage the Private Bank as well as the Private Client Group of McDonald Investments.  The combination allowed the firm to fully deliver all aspects the combined wealth management Key had to offer.  At the same time, Tom was responsible for growing the firm and increased revenues from just over $100 million to over $600 million – including Private Banking revenues.  Along with the revenue growth, Tom grew the number of financial advisors from 120 to over 600.  During his tenure at McDonald Investments, Tom served on various committees including McDonald Investments' Board of Directors, the firm's Capital Commitment Committee and the Compliance Committee.
Tom is actively involved in the industry through his participation in the Securities Industry Financial Markets Association, currently serving on the Board of Directors of SIFMA and serving as Chair of the Board's Small Firms Committee.
In addition to industry involvement, he has been active in civic organizations during his career.  Currently he serves on the Board of Trustees of the MetroHealth System, the third largest health system in Northeast Ohio.  He has served on that Board since 2008 and served as its Chair from March of 2013 until March of 2019 and serves on a number of Metro's Board committees.
Tom is also able to take advantage of Lake Erie and enjoys boating in the Lake Erie islands.  Tom has two grown sons, two wonderful daughters-in-law and five grandchildren.